Desert Lion Company Ltd. presents agric inputs to KNUST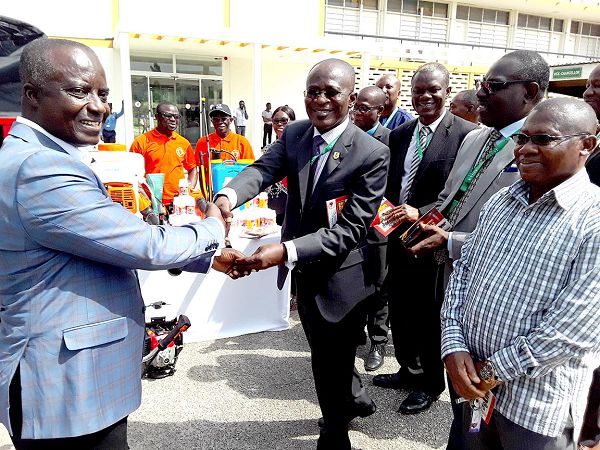 The Vice-Chancellor of the Kwame Nkrumah University of Science and Technology (KNUST), Prof. Kwasi Obiri-Danso, has called for a stronger partnership between the university and the private sector to produce skills needed for the industry
More importantly, he said there was a need for this collaboration in the agricultural sector which had been described as the backbone of the Ghanaian economy.
Prof. Obiri-Danso said this when Desert Lion International Ltd (DLI), a local agriculture inputs manufacturing company, located in the Ejisu Municipality in the Ashanti Region, presented some items to the university.
The items donated were one tricycle, five pairs of steel boots, five helmets, 10 knapsack sprayers and 12 pairs of farm boots.
They were produced with the technical support from students and staff of the university and formed part of a 10-year partnership between KNUST and DLI.
Under the partnership agreement, engineering students of the university were attached to the company to help in the design and manufacture of products.
The company is, thus becoming a training ground for the students and the lecturers for the experiment and for an industrial internship.
More engagement
The vice-chancellor said the university would be engaging more with the company to develop innovative products for the agricultural sector.
He appealed to the government to support the company in order to reduce the bill of importation and the pressure on foreign exchange.
Prof. Obiri-Danso was grateful to the company for the donation and promised to provide it with feedback on the performance of the items.
Samples
The Chief Executive Officer of the company, Mr Kwame Tweneboah-Koduah, explained that although most of the items produced by the company had been approved and adopted by COCOBOD for the cocoa sector, the company thought it wise to send samples to KNUST for testing and recommendations.
He said since it was the students from the university that provided the scientific and technical support for the production of the items, there was the need for the institutions to use the items and give its feedback to the company to improve on its works.
He said through the help of KNUST, the company had been able to produce more than 20,000 tricycles which had been supplied to farmers throughout the country.
Some of the farming inputs produced by the company are motorised pruners, herbicides, snake repellents, knapsack sprayers, industrial nose masks, weed slasher and bed bugs sprays.
Private mass spraying
He said the company would from May, this year, introduce private mass cocoa spraying exercise to complement the work of government in the cocoa sector.
The objective is to make the service available to farmers who might not be able to wait for their turn to benefit from the government's programme to have their farms sprayed and save their crops from diseases.
Mr Tweneboah-Koduah said the company intended to employ about 35,000 youth for the mass spraying exercise.